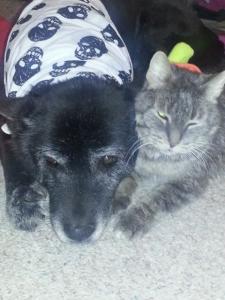 Nikki
September 12, 2000 --- January 26, 2015
for Nikki

I will miss your soft fur against my cheek
and watching you run in the snow,
I will miss how much you loved cheez-its
and sneaking you in to the drive-in show

I will miss our car rides together
How you'd jump into the driver's seat
I will miss the way you took up the whole bed
even cleaning your hair off the sheets

I will miss our evening walks in the summer
and how our cats would follow behind
Oh, how you loved your family
How beautiful you were in your prime

I will miss your sloppy wet kisses
The way you greeted me when I walked through the door
and how you would lay your head on my lap
and cuddle near me on the living room floor

I will miss your face and your gentle eyes
liquid brown and with long eyelashes yet
I will cherish every golden memory
Each moment from the day that we met

Forehead to forehead today
I heard your last breath as you slipped away
Though heartbroken, I knew I'd been lucky
To had known the love of a dog this way.


Rest in peace, dear girl
We will always love you.
Look for Jay at the rainbow bridge, he's been waiting for you.