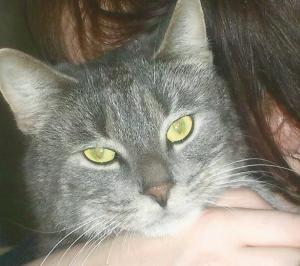 Jay
February 14, 2002 --- December 3, 2013
We lost our precious little boy three days ago and our hearts are broken. We called him our little miracle kitty because he had been on death's doorstep three times before, but always pulled through. He had a loving family, including his littermate, Chase, with whom he was found in an alley on a cold day in March, huddling together shivering from the cold. Our sweet Akita mix, quickly adopted them both. Caring for them as if they were her own puppies, even though they were kittens. From then on they were inseparable, even joining us on our evening walks. Everyone in the neighborhood got a real kick out of that! That's such a wonderful memory.

I feel like I want to talk about the last day, but it is too painful. I will say that I am glad I was there with him, although I don't think he knew; he had taken a turn for the worse so quickly. I think the last of his awareness was spent in the arms of his favorite person, my son. It had always been clear that was his favorite place to be.

So long buddy, we'll never forget you.